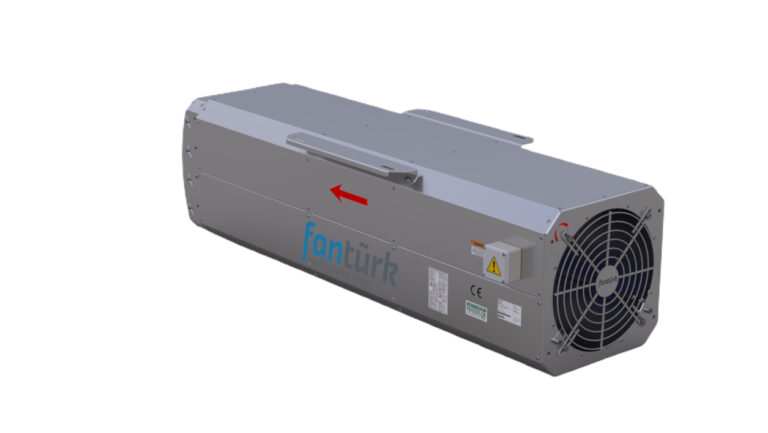 It is made of high quality corrosion resistant galvanized steel. The blade angles of the propellers used are adjustable and manufactured from special alloy aluminum. The products produced have been tested in international accredited institutions according to the EN 12101-3 Standard and are fire-certified as resistant to working at 400°C for 2 hours.
It is manufactured between Ø315mm and Ø630mm diameters. According to the project used, there are two-way, one-way, double-speed and single-speed options. J-FWA series is the ideal choice for high performance and trouble-free operation.
Usage Areas
It is suitable for use in all kinds of hotels, hospitals, residences, shopping malls, offices, residential parking lots ventilation systems.
Slide System
Thanks to its unique skid system design, disassembly and maintenance time is minimized with an easy intervention to the engine.
Jet Fan Systems
Shopping malls, large hospitals, hotels, etc. Jet Fan systems that we see in indoor parking garages provide protection against possible dangers by evacuating harmful gases such as exhaust gases from vehicles in the parking lot and daily ventilation of the parking lot, as well as evacuating the smoke released in the event of a fire. Jet fan systems in parking lot ventilation are divided into two as Radial Jet Fans and Axial Jet Fans.
Axial Jet Fan Features
Axial jet fans are used in parking lots. A healthy ventilation of indoor parking lots is one of the biggest problems. Axial jet fan is one of the most suitable devices to solve this problem. Produced with Fantürk quality, Axial Jet Fan is a product that has successfully passed all tests of internationally accredited organizations and is resistant to operating at temperatures up to 400 degrees. There are two-way and one-way options, as well as double-speed and single-speed options, it can be preferred according to the characteristics of the area to be used.
Adjustable Propeller Angle
Axial Jet Fan is made of high quality galvanized sheet that has passed the highest durability tests. The propellers are adjustable in angle and produced from special aluminum alloy material. The sound intensity is high due to the very high air velocity during operation, so there is a silencer on the suction and discharge sides of the product.
Detachable Slide System
Thanks to its special design, the engine can be easily accessed, the engine can be disassembled and reassembled. A sliding system was used in the design. All national and international certificates of the product are complete. All these features are produced on the basis of international standards.
Energy Saving with Automation System
Thanks to the integrated Fantürk Jet Fan Automation, it works fully equipped against all possible bad scenarios and prevents dangers in the area where it is used. It can evacuate smoke in the fastest way in case of fire. In addition, thanks to this automation, the fan provides significant energy savings by working according to the information coming from the sensors that measure the carbon monoxide rate in the environment.